Nord holding operates with waste non-ferrous metals and their alloys
in conformity with the provisions of the Waste Management Act.
The nomenclature of Nord holding subdivides waste non-ferrous metals
into 48 types grouped as follows:
Copper waste
various types of copper wires, copper pieces,
copper turnings, etc.
Zinc waste
zinc sheets, clean non-alloyed castings,
anti-corrosion plates, wire, etc.;
Spent batteries
automotive, industrial, or
UPS lead-acid batteries;
Brass waste
brass sheets, strips, rods, pipes,
turnings, brass and copper
automotive radiators, etc.;
Lead waste
lead from cable sheaths, pipes,
sheet metal, lead letters, battery
grids, etc.;
Nickel waste
nickel burned anodes;
Bronze waste
bronze bearing shells, pieces,
gears, turnings, etc.;
Aluminum waste
aluminum wires without insulation,
transformer conductor moldings, sheet metal,
profiles, automotive radiators, wheels,
castings, offset plate, beverage cans,
caps, foil, etc.;
Stainless steel waste
chrome-nickel pieces, steel, turnings, etc.
of varying nickel content (stainless steel
is a ferrous metal; however, taking into account
its market indicators, Nord holding classifies it under its
non-ferrous metal activity).
The company's main non-ferrous metal operations comprise sorting
the materials and preparing them to be handed over for recycling.
These processes, which are carried out
on specially equipped sites, include:
Accepting the materials
They are measured on certified scales, and our experienced staff determine their exact type. When in doubt about the type of material, its chemical composition is tested using a portable hand-held analyzer.
Radiation control
When accepting materials which pose a potential risk of radioactive contamination outside permissible norms, special devices for measuring radiation are used.
Treating the material to the type, size and packaging that meet the requirements and needs of the subsequent recycling facilities
All materials are subject to individual treatment as per the requirements of the end recycling facility.
Sorting and storing
Sorting by type of material is extremely important, as different industries have specific requirements for the chemical composition of the materials they use.
Sorting is performed by experienced trained staff who divide the materials into types and place them in designated covered sectors of the sites where they are stored on the ground, in metal or plastic containers, on wooden pallets, etc. Automotive batteries are stored in impermeable plastic containers meeting the requirements for transport of dangerous goods.
Cleaning
The rule of removing any dirt, dust, non-metallic or metallic admixtures before further treatment applies to all materials.
If any material containing impurities (e.g. aluminum beverage cans) has been accepted by necessity, the contaminants will be cleaned by means of a vibration belt type magnetic separator.
Sizing and packaging
Each recycling facility has specific requirements for the size and packaging technique used for waste non-ferrous metals. Based on the type of material, different packaging tools are used, such as metal scissors for aluminum profile sizing, baling press machines for aluminum and stainless steel baling, etc.
The materials can be handed over to the recycling facilities in bulk as long as each piece of material conforms to particular dimensions, or they can be pressed into bales of particular sizes or arranged and tied on pallets of a particular height.
Transportation
Most of the materials are transported using company vehicles. Upon customer request, the company offers purchased waste loading at sellers' warehouses, and transportation of ready-to-sell waste to recycling facilities.
Sale and handover to recycling facilities
Nord holding's clients comprise processing companies from various locations in the country and abroad.
The company maintains long-standing trade relationships with its customers, striving to retain the market share gained and expand its customer base. The company prioritizes direct sales to recycling facilities.
Recycling
non-ferrous metal waste is recycled mainly through melting by using various types of furnaces. Before the metal is allowed to re-solidify, it is purified using various additives and technological methods to achieve the standard sought. Re-solidification is followed by sizing and shaping of sheets, rods, etc.
The finished castings are processed to obtain
a wide variety of finished products: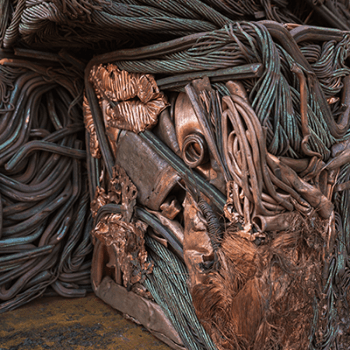 Copper
Is also used for making cathodes, anodes, plates and vessels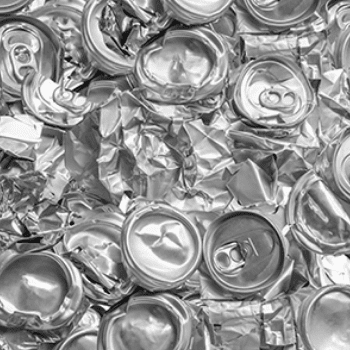 Aluminum
Is used for cladding sheets, aircraft construction profiles and sheets, window profiles, construction profiles, automotive castings for vehicle manufacturers, offset printing plates, packaging (soft drinks and food cans, foil, caps) and much more.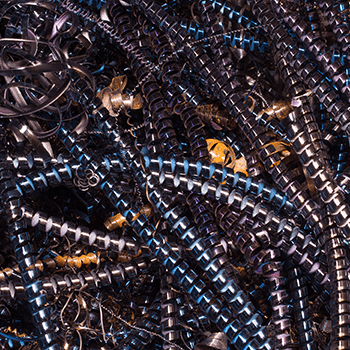 Brass
Is used for making water faucets, household fittings, rods, pipes and pipe fittings used in the construction industry, heat exchanger pipes, and more.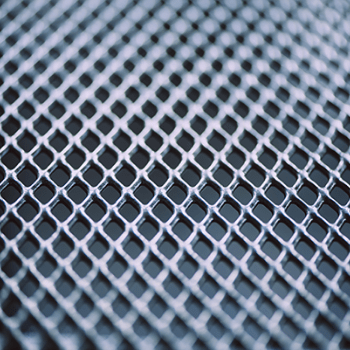 Stainless steel
Is used for highly durable products unaffected by moisture and water, e.g. kitchen appliances, countertops, dishes, utensils, chains, carabiners, medical and other tools, details for the construction and vehicle manufacturing industries, etc.
Lead
Is used in the manufacture of cable sheaths, solders and lead-acid batteries for vehicles, UPS, and other devices.