Secondary raw materials and recycling for pollution-free environment
Nord holding
Nord Holding is an established name in the field of secondary raw material recycling.
The company was founded in 1995 by Borislav Malinov (majority shareholder and Chairman of the Supervisory Board).
Nord holding is specialized in the collection and recycling of secondary raw materials and scrap, including:
The business activity of Nord Holding focuses on waste acceptance directly from the population and enterprises for further treatment and direct sale to major Bulgarian processors and foreign recyclers.
Nord holding has built up the widest network of strategically located sites across Sofia and the country, and has its own facilities, machinery and equipment for handling all types of waste.
Since 2022 the company has been building its own recycling production capacities for waste automotive oils, tires, textile, portable batteries, aluminum, bronze, pig iron.
Wastes are transported by rail, road or sea, including sea containers and bulk cargo vessels.
Nord holding is

certified for quality management


БДС EN ISO 9001:2015.
Mission, Vision and Values of Nord holding
Our corporate identity is built on a shared mission, vision and values ​​that shape our long-term and short-term business goals.
We strive to integrate our understanding into all our internal processes, external partnerships, campaigns and initiatives. In this way, we build Nord Holding as a structure based on time-resistant principles – the backbone that keeps us safe and stable in our development.
Our mission
Nord holding's mission can be systematized as follows:
Nord Holding is committed to protecting the environment by encouraging, promoting and facilitating the recycling of waste and raw materials.
Our vision
Our vision is to offer a raw material collection and recycling service unmatched
in terms of price, convenience, correctness and environmental friendliness.
We strive both to become a preferred business partner and to take care
of environmental protection.
Our values
The values we profess and integrate into our business processes are as follows:
Our goals
Our goals and steps towards realizing our vision are as follows:
We believe that the fulfillment of these goals is not wishful thinking, but absolutely necessary to fulfill our long-term vision. Namely – to remain the most preferred choice for scrap collection, processing and recycling in Bulgaria.
Nord holding
Certificates and Permits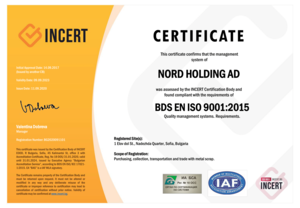 Certificate
БДС EN ISO 9001:2015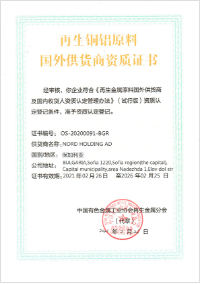 Certificate of Approval as an Overseas Supplier of Copper and Aluminum Raw Material to China № OS-20200091-BGR / 26.02.2021-25.02.2026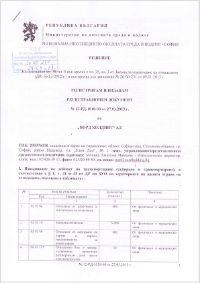 Registered Waste Collector and Carrier; Document No. 12-РД-1018-00/27.03.2013, issued by the Regional Inspection of Environment and Waters – Sofia
Nord Ferroindustry Ltd.
Certificates and Permits